Highest European recognition for early career researchers awarded to three MPGC PIs
The European Research Council (ERC) is funding three MPGC PIs, Laura Classen, Claire Donnelly, and Niels Schröter with one of the highest recognitions for early career researchers in Europe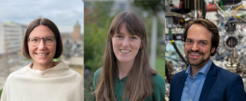 The ERC Starting Grant competition attracted 2,696 proposals, which were reviewed by panels of renowned researchers from around the world.
Awarded are 400 Starting Grants (success rate of 14.8%) to young scientists and scholars across Europe with over €628 million. The grants are expected to create more than 2,600 jobs for postdoctoral fellows, PhD students and other staff at the host institutions.

The most successful host organizations in Europe come from Germany with 87 grants, followed by France with 50 grants and the Netherlands, which received 44 grants.

In a European comparison, the Max Planck Society ranks first, together with the French CNRS, with 20 grants each. The Helmholtz Association and the Hebrew University of Jerusalem follow in second place with 10 grants. Third place goes to the Technical University of Munich with 9 grants acquired.
Three scientists from the MPGC-QM have been awarded Starting Grants in the current round of the European Research Council (ERC).